National Rally 2020
The 2020 Riley Car Club rally was centred on Rangiora just north of Christchurch. This was the Diamond Jubilee ( 60th) rally of the Club
Sunday 8th March was check in at the RSA Club in Rangiora with the opening dinner in the evening. There were 37 entrants this year, mainly BMC cars but unusually there were more pre-war cars than post-war RMs.
Monday morning saw the start with a visit to the Wigram Air Force museum for a free guided tour. This was followed by a short drive to the home of a member where a picnic lunch was consumed in the sunshine. The member has a large number of cars ( mainly Rileys ) in addition to a number of theatre organs. The resident organist gave a short varied concert, amazing playing when one considers that he is totally blind.
Afternoon tea was provided by the host which was much appreciated.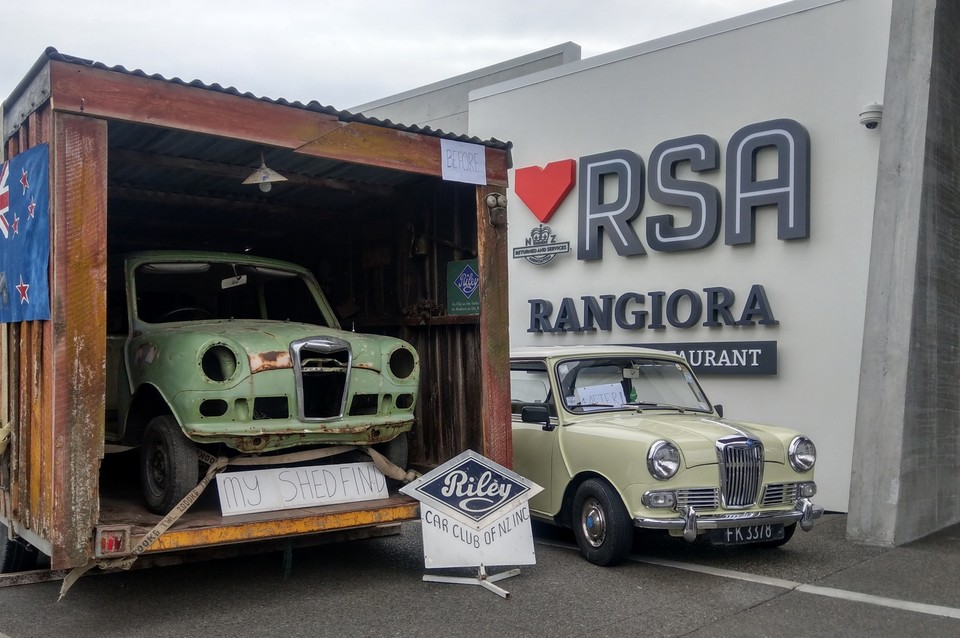 Changes not yet saved
During the visit the Diamond Jubilee cake was cut by the four ex Presidents present
Changes not yet saved
On Tuesday morning a rendezvous in Christchurch saw participants set of to lyttleton to view another car collection and then a scenic drive via Governor's Bay back to base.
A cool Wednesday morning saw the Concours event take place in the local New World supermarket car park, followed by a short drive north to Amberley for a picnic lunch among a collection of mainly Fiat cars. Then back to Rangiora for the 2020 AGM.
Thursday morning started with a coffee stop at the Christchurch VCC club rooms where the parts shed was opened, a huge warehouse full of parts housed over two stories. Entrants then proceeded over the plains to Oxford for lunch and then to the holiday home of a member for the Gymkhana event and afternoon tea.
Friday was a free day, many taking to opportunity to visit the Christchurch city centre to see the progress with the rebuilding following the earthquake. The Council is starting with a clean slate and doing a superb job. Some members also visited the local farmers market before returning to the RSA for the prizegiving dinner.
Saturday, after farewells for another year, some cars proceeded on to the post rally tour towards Arthurs Pass, Greymouth, Motueka and Nelson.
A most successful "Diamond Jubilee" rally and thanks must go to the organisers, George and Karen and helpers. Fortunately all participants got back home before the Covid 19 level 4 lockdown commenced.

Changes not yet saved